Motor City New Year's Eve

Detroit's version of Times Square "Lights Up Detroit" in Grand Style as a New Year's Eve Tradition!

Jerrid Mooney and Tony Piraino are two visionary businessmen who absolutely LOVE Detroit. So much so that they decided to create a
special event to celebrate the passionate Spirit that Detroiters have for their city. They titled it "The Drop" and made local history.


The "Drop" features the "D-Burst", a 12-foot diameter illuminated artwork
that for the past two years sat atop a 100-foot tower on Woodward Avenue
at the edge of Campus Martius Park. This year, a 40-foot version of it will be
erected on the roof of Dan Gilbert's Chase Bank building, taking it to 240 feet.

Just a few minutes before midnight, the "D-Burst" begins its slow descent
down the tower while flashing and changing colors as some 15,000 excited
onlookers cheer the approach of the New Year. It is a breathtaking sight.

Leading into "The Drop" each year is the performance of the "Light Up Detroit"
theme song which musically conveys what Mooney and Piraino wanted to
do visually and symbolically - illuminate the city and inspire Detroiters to
meet downtown and celebrate all that is great about this fabulous city. Noted
singer, Yvette Meadows, has been chosen to perform the song this year.

To make the event more Family Friendly, they and their partners, Brian and
Tifani Sadek, are also hosting a "Kid's Ball Drop" at 6:30 PM. At 10:00 an
actual wedding ceremony will be held for a local couple. Other features
include a deejay, a band, food trucks, and ice skating on the rink until 1 AM.

With their imagination and efforts, Mooney and Piraino have securely established a wonderful ongoing Holiday Tradition and have
inspired hundreds of thousands of people throughout Metro Detroit to embrace this city and its downtown area. Bravo, gentlemen. Detroit
appreciates you.
Like Mike Illitch, Pete Karmanos, Roger Penske, Dan Gilbert, and many others who are having a big impact on Detroit's resurgence, Jerrid
Mooney and Tony Piraino are two guys who wanted to do something special to help energize Detroit. Since then they have succeeded in
Grand Fashion.
Here are their personal reflections...

Jerrid Mooney: "The Drop is about celebrating the Spirit of Detroit. When you step outside and just see this sea of people - all these
revelers sharing the same common feeling - it's all just a payoff. It's emotionally cool."

Tony Piraino: "Every city has these great events and we wanted to create a new Tradition. An elderly woman came up to me right after
'The Drop' and just said, 'Thank you. Thank you Very Much for doing this for the city'. It was fantastic."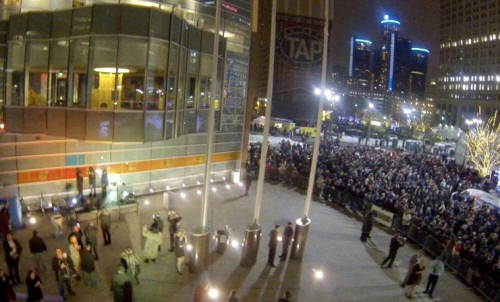 Singing group, DMK, performs the "Light Up Detroit" theme song at Compuware Plaza as thousands sing along.

Over the years, The Spirit of Detroit Statue, The Renaissance Center, The Motown Museum, and Campus Martius Park have been
considered four of the most distinctive symbols that represent Detroit. Thanks to Jerrid and Tony, we now have a fifth - The "D". It is
magnificent.

Support this sensational event, folks. This year, take a break from the usual hotel and nightclub parties, or watching Ryan Seacrest on
"New Year's Rockin' Eve", and come downtown to be a part of the Motor City New Year's Eve "D-Drop" at Campus Martius Park. It's the
flavor of New York City combined with the Magic of Motown. You really need to experience it.
The "Drop" is produced by The Motor City New Year's Eve Group: Jerrid Mooney, Tony Piraino, Brian Sadek, and Tiffani Sadek.