The Fillmore Theatre "Lights Up Detroit"

Classic theatre joins in to support the Light Up Detroit campaign

The Fillmore Theatre was constructed in 1925 as a movie house in the Renaissance Revival style of architecture when Detroit's population and the popularity of movies was booming. It has a capacity of 2,200 and is listed on the National Registry of Historic Places.
The building is twelve stories high and covered with terra cotta with an eight-story theatre extending to the rear. It was originally called the State Theatre when it opened in 1925. It was renamed the Palms-State Theatre in 1937. In 1949 it was renamed the Palms Theatre. In 1982 it was renamed back to the State Theatre. And in 2007 it was renamed, once again, as the Fillmore Theatre. It is now operated principally as a concert venue by Live Nation.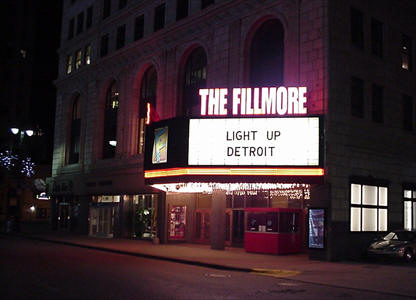 In preparation for a music video being filmed to highlight Detroit's
illuminated landmarks, the Light Up Detroit team called the Fillmore to
request their support. General Manager, Ben Doughty, stepped up
immediately and granted the very rare privilege of having the song title
displayed on his marquee all evening long so our videographers could shoot
it. It was a generous gesture and emblematic of the kind of commitment
downtown business leaders have for this city.
Seeing the song title highlighted on Woodward Avenue was a proud
moment for the Light Up Detroit campaign. We hope more entities get on
board to support this effort.